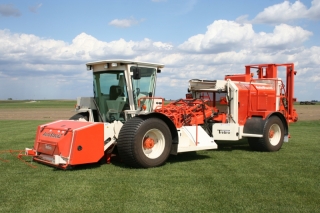 The Trebro AutoStack II is the ultimate high production automatic turf harvester. The AutoStack II is a totally refined machine by any standard. Not only does it feature Trebro's economy, reliability and time tested value, it also incorporates many new features that set it apart from any other turf harvester on the market today.

The state of the art heated and air conditioned cab uses curved glass front and rear for outstanding visibility of all harvesting and stacking functions. The entire cab is mounted on anti-vibration mounts for a smooth quiet ride. The Trebro AutoStack II will quickly pay for itself thanks to maximum productivity and sod quality while minimizing waste and downtime. Turn your large scale turf harvesting operation into a highly efficient one-man system. The future of turf harvesting is now!
Proven state of the art 'CANBUS' Plus 1 Control System
Powered by a Cummins 130 HP Diesel Engine
All wheel drive with electronic anti-spin control
Heated and Air conditioned Cab with anti-vibration mounts
Curved glass front and rear windows for excellent visibility
The operator controls and console are conveniently positioned by the driver's seat that rotates 90 degrees putting the driver in the best and most comfortable position for harvesting
Twin 24 inch floating heads with dual adjustable down pressure for improved sod quality
Blade changing is easy and convenient with the cutting heads in the raised position
Articulated steering for outstanding maneuverability; even in smaller fields
| | |
| --- | --- |
| Width of Cut……………………………….. | Two 24 inch cutting heads (2 X .61m) |
| Length of Cut……………………………… | Electronically variable up to 81 inches (2.06m) |
| Thickness of Cut………………………….. | Hydraulically adjusted |
| Pallet Size…………………………………. | 48 x 48 inch single faced (1.22 m x 1.22 m) |
| Cutting Knife………………………………. | One piece with fingers |
| Steering……………………………………. | Articulated with Dual Ultra Steer (automatic) |
| Weight……………………………………… | 28,250 lbs. (12,814 kg) |
| Length……………………………………… | 34 feet, 10 inches (10.62m) |
| Width……………………………………….. | 11 feet, 11 inches (3.63m) |
| Height………………………………………. | 9 feet (2.74m) |
| Tires………………………………………… | 54 X 31 inch high floatation (1.37m X.79m) |
| Horsepower………………………………… | 130 hp Cummins |
| Transmission………………………………. | Infinitely variable |
| Drive………………………………………… | All-Wheel, Planetary wheel motors |
| Differential Lock…………………………… | Electronic anti-spin control |
*This harvester is neither designed, nor intended for use on public roads. It is the responsibility of the owner and/or operator to ensure that the harvester is legal for use on public roads in the country, state, or jurisdiction in which the it is to be used.
Palletless Forks
Pallet lifter for double sided pallets
Spare parts package
httpv://www.youtube.com/watch?v=3Opmr4qW1Uc
httpv://www.youtube.com/watch?v=AYBPCeB8iUU
httpv://www.youtube.com/watch?v=fTmOknCA_FE
httpv://www.youtube.com/watch?v=Ur_maE1TB7A
httpv://www.youtube.com/watch?v=EB_52l4sHTo